Advanced Dental Services & Technology – Avon, MA
We Use Innovative Tech Every Single Day
At Avon Dental Group, we combine traditional dental care with state-of-the-art, advanced dental technology and services. Basically, we offer the best of both worlds in one location! Our dentists and our team are highly trained and stay updated on devices that make the entire dental experience more comfortable and more productive. Below is information about our use of technology and specialized services, we invite you to contact us if you have any questions!
TMJ/TMD Treatment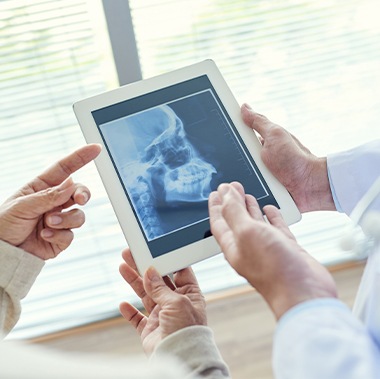 If you struggle with pain or stiffness in your jaw joint, which is called the temporomandibular joint (TMJ), you could have a TMJ disorder (TMD). Not only can TMD make your life more miserable but it can be difficult to treat on your own. In many cases, this problem can be resolved with a simple adjustment or splint, helping the muscles to relax while you sleep. We can provide this treatment and give you the relief you've been looking for.
Sleep Apnea Treatment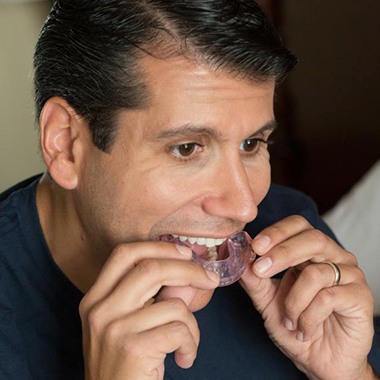 Do you snore loudly on a consistent basis and feel tired throughout the day? Sleep apnea may seem relatively harmless, but it can have devastating effects on your health in the long term. Once you've been officially diagnosed with sleep apnea, our dentists can create a customized oral appliance. You simply wear it to bed every night, and it repositions the lower jaw forward, preventing blockages in the airway and allowing you to breathe freely for deep, restful sleep.
Intraoral Camera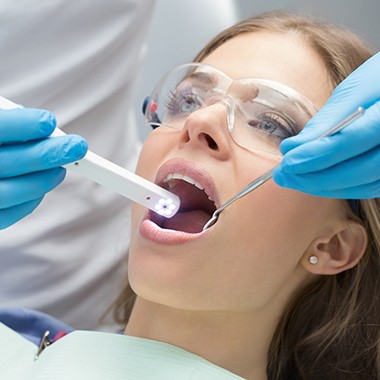 Before intraoral cameras, dentists had to describe issues they saw in patients' mouths. Whether we've found a cavity or gum disease, having the full picture can be much more effective and powerful to help you move forward with treatment. With these small cameras, we are able to show you in real time exactly what we see, increasing your knowledge and enabling you to make smarter decisions about your oral health.
Digital X-Rays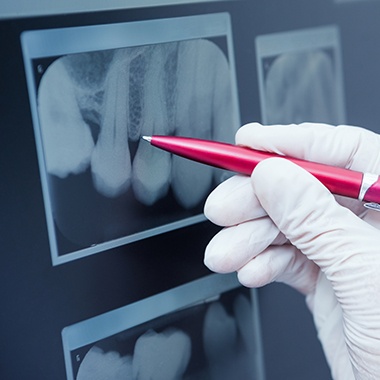 X-rays have played an important part in dentistry for many years, but fortunately, technology has made these necessary images even better. Not only can our digital technology make these images clearer than ever before, but we are also able to see the images right away on our chairside screens without the need for harsh chemicals for development. That saves us time and helps us protect the environment. In addition, digital technology reduces your exposure to radiation by as much as 90 percent!
CT/Cone Beam Scanner
For more complex procedures, such as dental implant placement or root canal therapy, our dentists like to have as much information as possible. Dental X-rays reveal underlying bone structure, but the 3D images that a CT cone beam scanner captures let us know where blood vessels and nerve points are. With this information, we are able to avoid complications and facilitate faster healing. We utilize a mobile CT cone beam service that brings this device to our dental office when we need it.
Digital Impression System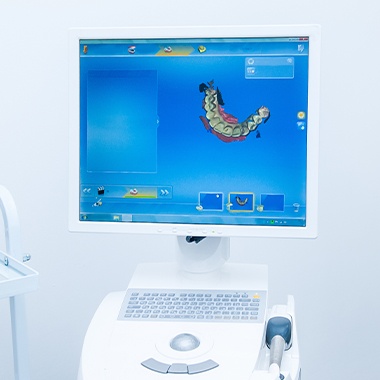 Have you had traditional dental impressions taken before? Putty impressions can be uncomfortable to say the least and, if not done properly, can create an inaccurate model. As a result, your oral appliance or restoration may not fit perfectly the first time. That's why we use digital impressions. A small device scans your teeth and mouth, taking precise measurements. This method not only tends to be more accurate is much more comfortable for the patient.
Soft Tissue Laser Dentistry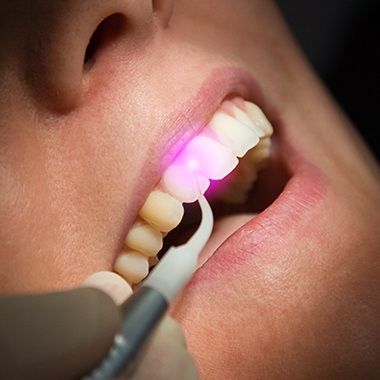 Sometimes the problem with a patient's smile isn't their teeth—it's their gums. For delicate tissues, we use a soft tissue laser, which helps us treat gum disease or even recontour the gums for a less "gummy" looking smile. Unlike traditional methods with a scalpel, this device allows us to sever unnecessary or infected tissue without causing much discomfort or bleeding. In fact, many patients do not need a local anesthetic at all!
Cavity Detection System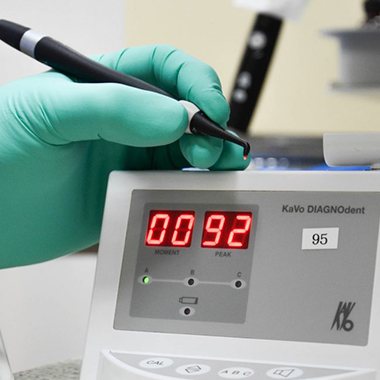 When a cavity is just beginning to form on a tooth, it can be difficult to spot, even for the trained eye. To catch even the smallest trace of a cavity, we use our cavity detection system, which illuminates where decay has started to develop. As a result, we can treat the tooth long before the cavity has the chance to become a serious, painful problem for you down the road. This also allows you to retain more of your natural tooth structure for the long term.