Replace Missing Teeth – Avon, MA
Re-complete
Your Smile
Sometimes a permanent tooth is lost in an accident and can't be replanted in time; in other cases, you might need to have multiple teeth extracted for one reason or another. Whatever the case, leaving the gap alone for too long could lead to costly oral health problems later. As soon as you realize that you're facing life without a full set of natural teeth, call Avon Dental Group and schedule an appointment with Dr. Malaviya and Dr. Sardhara to discuss your options to replace missing teeth in Avon, MA.
Why Choose Avon Dental Group to Replace Missing Teeth?
In-House Dental Implant
Placement
State-of-the-Art
Dental Office
Experienced Team That Provides a Warm Welcome
What Happens if
I Do Nothing?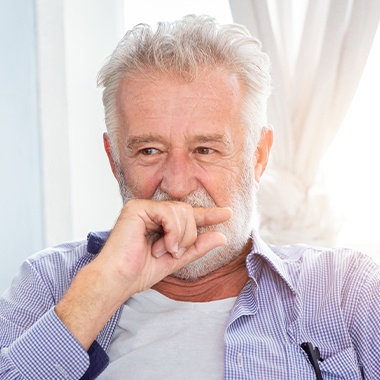 If you choose not to replace your teeth, you'll have to contend with the following issues:
You may feel embarrassed or self-conscious whenever you speak or smile in front of other people.
Certain words might become difficult to pronounce clearly.
Chewing your food will become more challenging; you may not be able to enjoy certain foods and may even suffer from malnutrition.
Your other teeth will weaken due to additional stress and wear. They will also shift out of place to compensate for the gap.
Dental
Bridges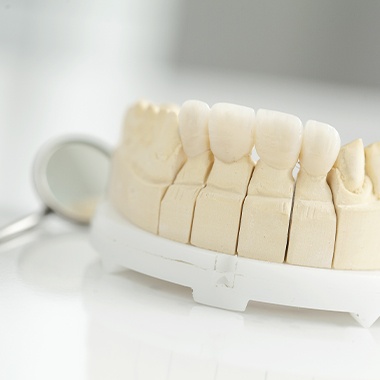 If you're missing a single tooth or several in a row, you might consider getting a dental bridge. The restoration is made out of two crowns and one or more false teeth called pontics; to make room for the restoration, the teeth on either side of the gap are prepped (meaning their size is slightly reduced). The crowns used natural teeth as support while the pontics fill in the gap. Thanks to the material used to create them, bridges can be made to resemble your natural teeth as closely as possible.
Dentures &
Partial Dentures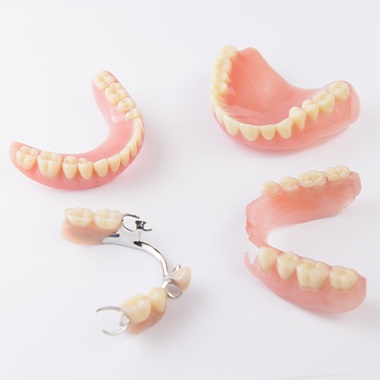 With their acrylic, gum-colored base, today's dentures are more reliable and comfortable than ever. Full dentures rest on the gums and stay firmly in place with natural suction (as long as they still fit properly). However, if you still have most of your natural teeth, you could instead get partial dentures that have been customized to fit into the gaps of your smile. This type of restoration stays in place thanks to metal clasps attached to the natural teeth.
Dental
Implants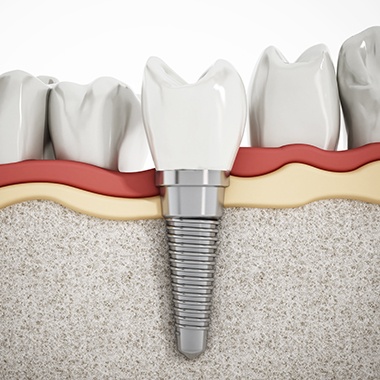 One often overlooked consequence of tooth loss is the effect it has on the jaw. The bone underneath the gums needs to be stimulated by biting and chewing, or else it will start to break down. Unfortunately, most forms of tooth replacement can't do anything to prevent this bone loss. That is where dental implants come in. These sturdy titanium posts let us replace the roots of the teeth, keeping the jaw healthy and providing your new teeth with strong, stable support.