Emergency Dentistry – Avon, MA
Fast Care for Emergencies
Dental issues such as sudden searing pain or broken teeth can strike at any time. To help you save your smile and return to your normal schedule as soon as possible, Dr. Malaviya and Dr. Sardhara will make your case a priority and schedule a same-day appointment whenever possible. This way, new and returning patients alike can find quick relief at Avon Dental Group! Call us today for emergency dentistry in Avon, MA if your teeth or gums need urgent attention.
Why Choose Avon Dental Group for Emergency Dentistry?
Same-Day Emergency Appointments Available
Advanced Treatments Using the Latest Dental Technology
Friendly, Experienced
Dentists and Team
How to Handle Common Dental Emergencies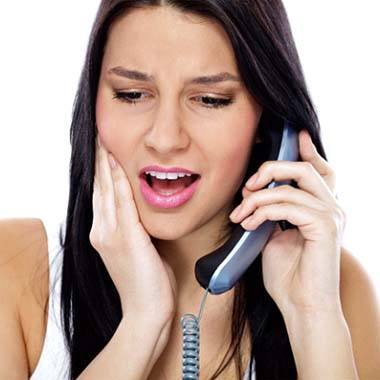 Many dental emergencies involve a sudden injury, such as chipping or knocking out a tooth after taking a sudden blow to the mouth. Other emergencies will be the ultimate result of an infection that can worsen over time. Our dentists and team members are trained to deal with many different scenarios and restore your oral health. But before your appointment, you need to be able to manage your condition on your own. Keep this advice in mind for taking control of common emergencies.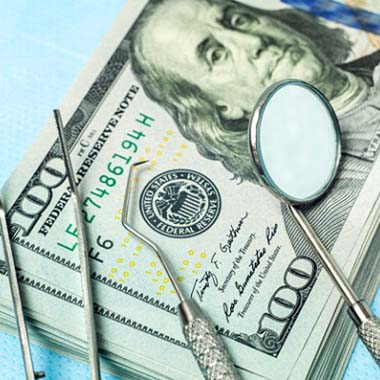 Toothaches
A toothache that lasts longer than a couple of days or causes severe pain will likely require root canal therapy. However, there's also a chance a piece of food has gotten stuck in your mouth; you can try to remove it with dental floss and warm water. If that doesn't help, call us for an appointment and use ibuprofen or a similar painkiller.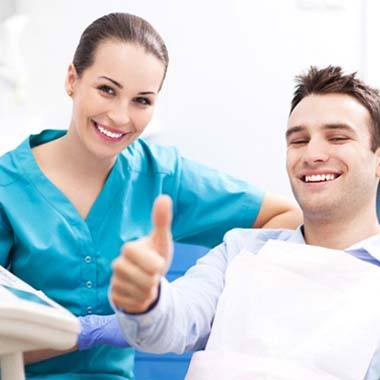 Chipped/Broken Tooth
Particularly severe injuries might require an extraction, but in most cases, you should plan on having the tooth repaired. Gather any large pieces that have come loose and bring them with you. Cover any jagged edges with dental wax or a piece of sugarless gum. Apply a cold compress if you notice swelling.
Knocked-Out Tooth
As long as you still have the tooth, we can try and re-implant it. However, you'll need to get in touch with us as soon as possible; ideally, you should try and get to our dental office in less than an hour. To keep the tooth safe in the meantime, either place it back in its socket or put it in a container of milk.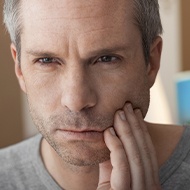 Lost Filling/Crown
If the crown is still intact, try placing it back on the tooth with denture adhesive or dental cement. This should prevent further damage and reduce any sensitivity that might occur. Of course, this is not a permanent solution; Dr. Malaviya and Dr. Sardhara will need to properly replace or restore the crown/filling.
How to Prevent
Dental Emergencies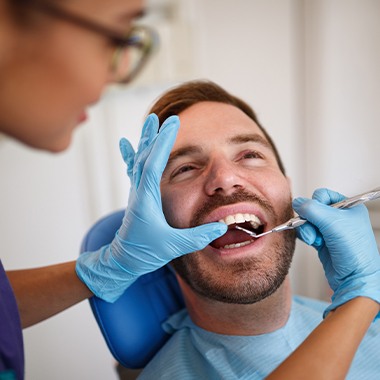 You can never completely avoid the risk of an emergency, but the following tips can go a long way towards keeping your teeth and gums safe.
Treat sticky or hard foods with caution, and avoid chewing on ice.
Drop bad oral habits such as chewing on fingernails or opening packages with your teeth.
Get a protective mouthguard if you play any kind of sport or grind your teeth at night.
Protect yourself from oral infections by brushing twice a day and flossing daily.
Visit us regularly for checkups and cleanings.
The Cost of Treating
Dental Emergencies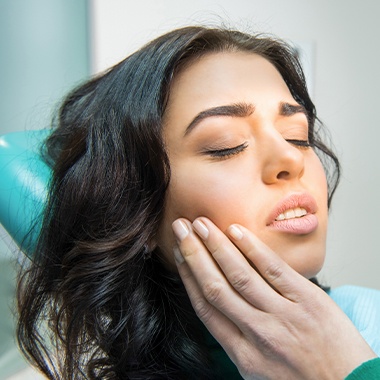 It's impossible to give a general estimate for a dental emergency without performing an examination first. Some patients will only need a prescription, but others could end up needing crowns, dental implants, extractions, or other procedures. We'll make sure that you have an accurate idea of the final price before moving forward with the treatment. Our dental office is in-network with many major insurance companies, and we can offer financing options to patients who need them.
Emergency Dentistry FAQs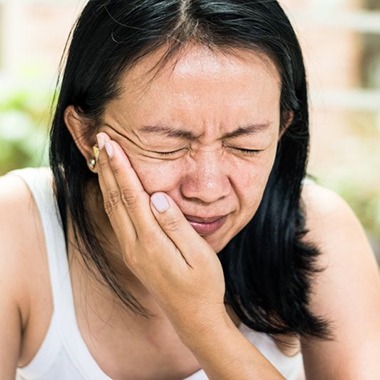 Are you still worried about what you would do if a dental emergency were to strike? Even after reading all of the information laid out above, you might still have a question or two. For your convenience, your emergency dentist has decided to answer some of our most frequently asked questions about emergency dentistry down below.
What Should I Do If My Jaw Is Broken or Dislocated?
For extremely severe dental emergencies, such as a fractured jaw, profuse bleeding that won't slow down, or swelling that makes it difficult to breathe or swallow, you should visit your nearest emergency room before scheduling an appointment with us. These issues could all be considered life-threatening, and as such, you should seek medical care immediately. Once you've received the treatment you need, you can then book a same-day emergency appointment with us so that we can handle all of your oral healthcare needs.
Do Sensitive Teeth Count as a Dental Emergency?
It depends. There are several reasons your teeth could be sensitive, such as enamel erosion or receding gums. If you notice that your teeth look longer than they used to, you might have an advanced form of gum disease that causes your gums to pull back from your teeth. In this case, you should seek treatment right away to avoid complications such as tooth loss. If your gums appear normal, try using a toothpaste specifically designed to alleviate sensitive teeth. For sensitivity that persists even after a couple of weeks of using this toothpaste, schedule an appointment with us so we can determine what's wrong.
How Can I Prepare a Dental Emergency Kit?
The best way to minimize damage from dental emergencies is to be prepared. You can do so by creating an emergency kit with the following items included:
Bottle of ibuprofen
Latex-free gloves
Gauze pads
Saline solution
Small container with a secure lid
Orajel
In order to be as prepared as possible, make a few of these kits and store them in places where you spend a lot of time, such as your kitchen drawer, your car, or even your desk at work.
How Do I Remove an Object Stuck in My Teeth?
Many toothaches are actually the result of a piece of food or other debris getting trapped in between the teeth. First, try dislodging the object by gently flossing in the area. If that doesn't work, rinse your mouth out with warm saltwater. If that is unsuccessful, call us right away. Never use a sharp item like a toothpick to remove something stuck in your teeth. Doing so could pierce your gum tissue or scratch your teeth.