Dentures – Avon, MA
Enjoy a Full, Beautiful Smile Again
When you're missing several or all of your teeth, even the most basic daily tasks can feel nearly impossible. Not only are you likely to feel insecure about the gaps in your grin, but you might have trouble eating your favorite foods and speaking with clarity. By replacing your missing teeth with custom-made dentures in Avon, MA, you'll be improving your long-term oral health as well as your overall quality of life. For a fast, affordable, and reliable tooth replacement, please call our team at Avon Dental Group today to learn more about dentures!
Why Choose Avon Dental Group for Dentures?
Experienced, Caring Dentists Who Listen to Your Needs
Treatments Customized for Each Patient
State-of-the-Art Implant Dentures Placed & Restored In-House
Who Is a Good Candidate for Dentures?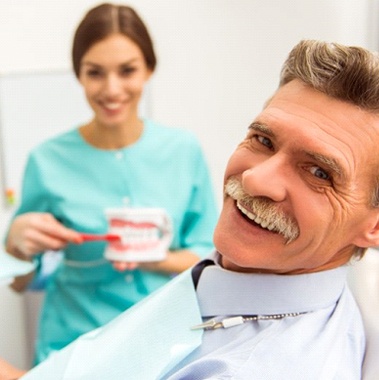 If you have lost multiple teeth or even all of your teeth on one or both arches, you're most likely a good candidate for dentures. Of course, we still recommend coming in for a consultation just to be sure. You'll meet with your dentist in Avon, MA – either Dr. Sardhara or Dr. Malaviya – to have your mouth examined. We'll determine which kind of denture is right for you. If we detect any untreated oral health concerns, like gum disease, then we'll be sure to include treatment for that in your overall tooth replacement plan.
Types of Dentures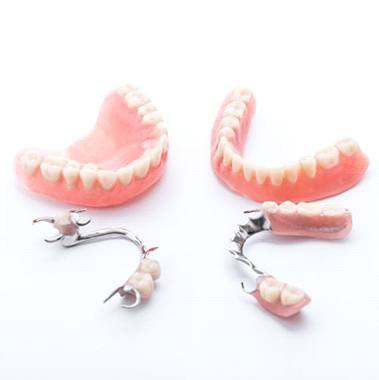 In addition to being a highly accessible way for patients to enjoy a full, beautiful smile again, dentures are also incredibly customizable. Each denture is designed to accommodate your unique needs and preferences. Here are the three types of dentures that we may recommend to you:
Partial Dentures
Partial dentures replace multiple teeth at specific locations along an arch. Using gum-colored acrylic and lifelike ceramic teeth, this prosthetic fits into place behind your remaining teeth using metal clasps. Partials complete your smile like the missing piece of a puzzle, to the point that it should be indistinguishable from your real teeth!
Full Dentures
Full dentures bring back an entire arch of lost teeth at the same time. While full dentures utilize the same materials as partials, they rely on natural suction rather than metal hooks to stay securely in place on the gums. For a bit of extra stability, denture adhesive can also be used.
Implant Dentures
A full or partial denture can be anchored onto a small number of dental implants for a more reliable, longer-lasting solution. These titanium posts are surgically inserted into your jaw, where they eventually fuse with the bone. This allows them to function like real tooth roots. As a result, implant dentures replenish more chewing power and feel more natural than conventional options.
The Benefits of Dentures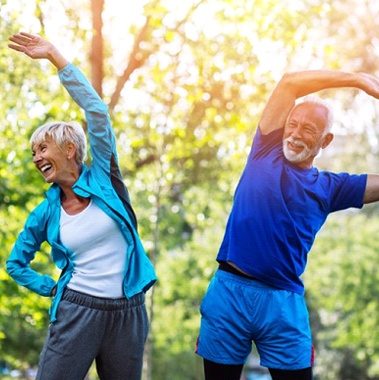 People have been replacing lost teeth with dentures for centuries, but modern dental technology has made today's dentures more comfortable and reliable than ever before. Some of the benefits you can expect to reap with dentures include:
A restored biting force that makes it easier to enjoy a healthy, varied diet.
A cost-effective tooth loss solution.
A prosthetic that can last for five to ten years.
Easy cleaning and maintenance.
The confidence that comes with having a complete smile.
Denture FAQs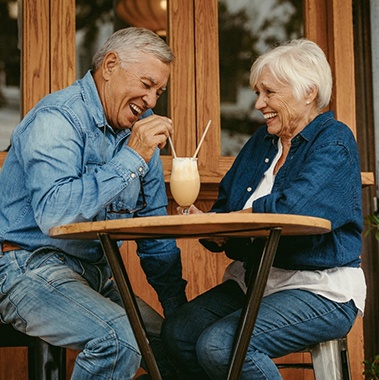 Dentures are an excellent tooth replacement option that can be lifechanging for those who have suffered from tooth loss in the past. Before moving forward in the process of getting dentures, you may still have some unanswered questions. Here are the answers to some of the most common questions we receive about dentures in Avon. If you don't see the information that you're looking for below, just give us a call. Our team would be more than happy to answer your questions and get you started with an initial consultation.
Should I Have All My Teeth Pulled to Get Dentures?
Repairing a damaged tooth whenever possible is always preferable to replacing it. Tooth extractions of any kind will only ever be recommended if they are deemed absolutely necessary, like when a tooth is too damaged to save thanks to extensive decay, severe infection, or trauma that's broken off most of the enamel. If all of the teeth in an arch are decayed or infected with gum disease, replacing them with dentures may be a viable option, but your dentist will always explore all of your options before making this recommendations.
Can I Sleep with My Dentures?
Dentists will generally recommend that you take your dentures out at night when you go to bed. When you first get your dentures, you will typically be told to keep them in your mouth for 24 hours, including when you sleep. After this, you should be taking them out each evening. This is because wearing dentures restricts the circulation in your gums, leading to soft tissue irritation and potentially speeding up ridge resorption. Taking dentures out gives the gums a chance to recover and get the nutrients they need during the night. The dark, moist space beneath the dentures is also an ideal place for bacteria to thrive, so sleeping with dentures has been found to be associated with a higher risk of pneumonia. Ultimately, it's best to take out your dentures while you sleep.
Is It Hard to Talk with Dentures?
When you first get dentures, it will take time to get used to speaking with them because you're so used to speaking with your natural teeth. The exact amount of time it will take varies from person to person, but generally speaking, the more you practice, the quicker you will adjust. Try reading out loud to yourself and repeating difficult-to-pronounce words. Speak slowly at first, as fast speech can come out muffled if you're not used to talking with your new restoration.
Will Dentures Change the Shape of My Face?
When you lose your teeth, your facial muscles will begin to sag over time, and this can give your face a sunken appearance. Getting dentures will mean providing support to facial muscles that have collapsed. Ill-fitting dentures may not give your facial muscles the support they need, so if you feel that your dentures aren't fitting properly, give our office a call so we can help.