Invisalign® Clear Braces – Avon, MA
Straighter Teeth Without Braces
Some adults mistakenly think they have to choose between living with crooked teeth and wearing braces to work. But with Invisalign from the Avon Dental Group, you can continue to look professional while your teeth are being realigned. If you've been thinking about straightening your smile, call our dental office today; once Dr. Malaviya and Dr. Sardhara have seen you, they can decide whether Invisalign clear braces in Avon, MA are the clear solution for giving you a healthier grin.
Why Choose Avon Dental Group for Invisalign® Clear Braces?
Trained, Knowledgeable Dentists
State-of-the-Art Technologies
& Techniques
A Dedicated, Friendly
Team
What is
Invisalign®?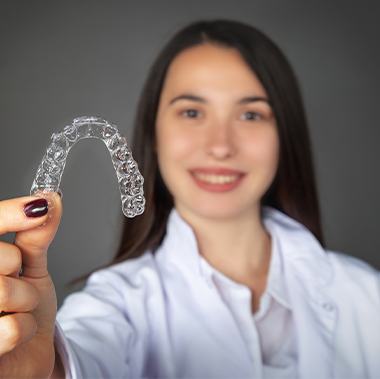 Made from an FDA-approved clear plastic, Invisalign aligners are all custom designed so that they fit snugly over the gums. The aligners come in sets that are worn for about two weeks at a time; once the teeth have been moved closer to their ideal position, you'll be ready to move on to the next set. The process continues until there aren't any sets left, which can take about 12 to 18 months. During this time, you can eat whatever you want and brush normally simply by removing the aligners.
The Benefits of
Invisalign®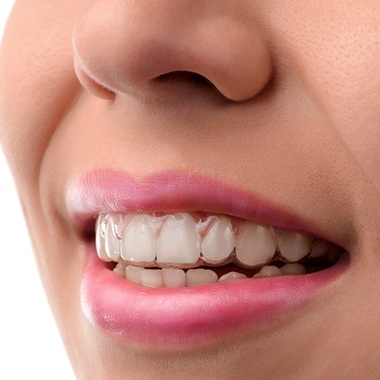 Invisalign can fit neatly into most patients' lifestyles. The aligners are nearly invisible, meaning you won't have to worry about the embarrassment of other people noticing any metal brackets or wires in your mouth. They also make it easier to clean your teeth since they won't get in the way of brushing and flossing. Similarly, because Invisalign is removable, it carries none of the diet restrictions that patients who wear braces usually have to observe.
Is Invisalign®
Right for Me?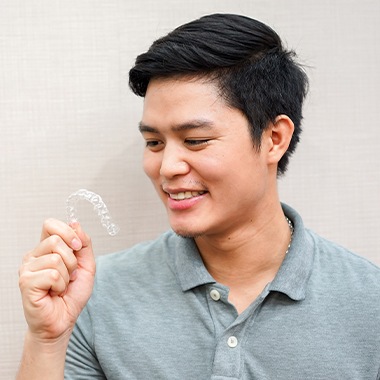 Before we can decide whether you're a candidate for Invisalign, we'll need to answer the following questions:
What kind of issues do you need to treat? Invisalign is usually highly effective for closing gaps between your teeth, straightening your smile, and eliminating bite problems; it may not work as well for particularly extreme cases.
How old are you? Young children with teeth that are still growing usually aren't able to wear Invisalign. The treatment works best for teenagers and adults.
Can you comply with the treatment? Your aligners won't make the necessary corrections if you don't leave them in your mouth for at least 22 hours each day.