Veneers – Avon, MA
Hide Cracks, Chips, Stains and More
While there are many ways that Dr. Malaviya and Dr. Sardhara can enhance your smile's appearance, there's one treatment in particular that can transform it from top-to-bottom and even help you save on other cosmetic services. With a series of highly personalized veneers, you can complete a full-blown smile transformation with just a single procedure! You don't have to fantasize about your dream smile any longer, give Avon Dental Group a call today to make it a reality!
Why Choose Avon Dental Group for Veneers?
Ultra-Thin Lumineers Available
Virtual Smile Design Technology In-House
Highly Customized, Lifelike Ceramics
What are Veneers?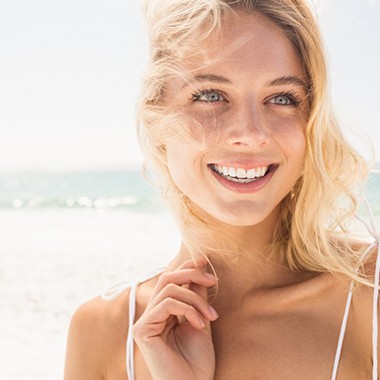 In the past, veneers were first made from composite resin, which are cheaper and not as long-lasting as materials used today. Instead, veneers are more often made from lifelike and durable dental ceramic. Not only do these restorations tend to last longer, but they are actually quite stain-resistant thanks to their smooth, non-porous surface. These ceramic shells adhere to the visible portions of teeth and hide all kinds of perfections simultaneously. This includes:
Small, yet noticeable cracks and chips
Crooked teeth
Misshapen or disproportionately small teeth
Permanent stains unaffected by teeth whitening
Small gaps in between teeth
How Does the Treatment Process Work?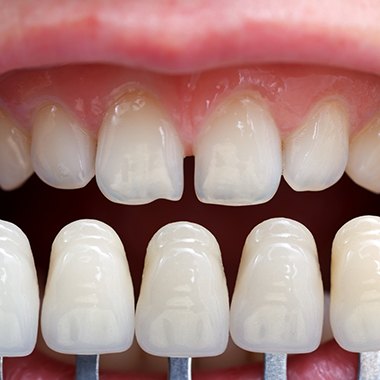 During your cosmetic consultation, we'll confirm what changes you'd like to make with your smile and the best way to meet those goals. If you choose veneers to accomplish this, we'll start by making very small modifications to your existing teeth to ensure the veneers sit flush. We'll also create a model of your teeth so they can be sent to a dental lab. This model will be used to design and fabricate your new veneers, ensuring they are fully personalized to you. At your first appointment, you'll be given temporary veneers to wear to help you adjust to your new smile, then at your second appointment we'll replace them with your permanent veneers.
What are the Benefits of Veneers?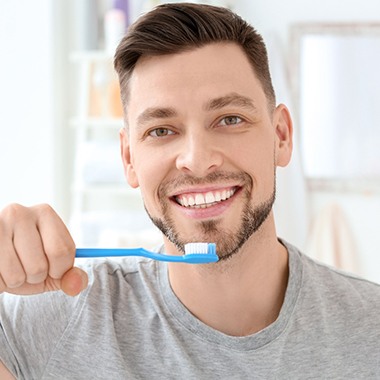 Lifelike Appearance: Every veneer is customized to blend in with your existing teeth.
Highly Resistant to Stains: Enamel is porous and prone to stains, while dental ceramic is smooth, making it far less vulnerable to this problem.
Long-Lasting: Veneers are capable of lasting anywhere between 10 and 15 years when practicing proper oral care.
Short Treatment Length – Considering how transformative veneers are, they can enhance your smile in only two weeks!
How to Make Your Veneers Last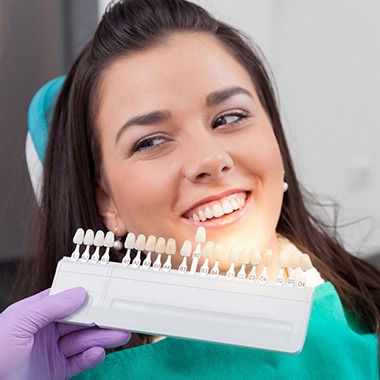 To ensure that your veneers last for as long as possible, you'll need to take a few key oral care habits in mind throughout the day. To keep your smile beautiful and radiant, make sure to:
Brush twice a day and use floss at least once a day
Avoid chewing on inedible items, such as pen caps, pencils, or your fingernails
Use the right tool for the job, not your teeth (i.e. a knife for opening packages)
Wear a protective mouthguard if you play sports or grind your teeth
Visit our office at least twice a year for a routine exam and cleaning
Veneers FAQ's
If you're still curious about veneers in Avon, you're in the right place! Please don't hesitate to contact our office to discuss any specific concerns with our team. Until then, we've included the answers to some of the most frequently asked questions about veneers so you can get the information you need easily. Read on to satisfy your curiosity and learn more.
How Many Veneers Will I Need?
One of the benefits of veneers is that we can use them for a wide variety of solutions. Whether you have one affected tooth, or you want to transform your entire smile, veneers are the perfect treatment. The only way to know the number of veneers that you need is to visit our office for a consultation. One of our experts will carefully examine your smile to determine the number of veneers you'll need. We match veneers to your smile's exact size, shape, and shade so they seamlessly blend in with the rest of your teeth.
How Long Does It Take to Get Veneers?
Veneers will usually require 2 separate visits to complete treatment. However, depending on your needs, this will vary. During the first appointment, your teeth are prepared before we take special images and impressions. These impressions are used to design your veneers. After about a week or so, your permanent veneers will be made, and you'll come back into our office for your second visit. We will always ensure that you're happy with your final results before permanently bonding the veneers to your smile.
Are Veneers Reversible?
The only slight downside of veneers is that their effects are irreversible. In order to properly place veneers, we must first prepare your teeth by removing a slight portion of your smile. This enamel cannot grow back, which is why it's so important that you feel 100% confident that you want veneers before we begin. In most cases, patients won't ever want to go back to their old smile, making veneers an amazing solution.
Am I a Good Candidate for Veneers?
Are you wondering whether or not veneers are right for you? It's easy to find out! Just call our office to schedule a consultation with one of our cosmetic dentists in Avon. They will carefully examine your smile and the flaws that affect it before developing a personalized treatment plan that meets your needs. Veneers are usually a good option if you have multiple cosmetic flaws that you want to correct.
Is There an Alternative to Veneers?
At Avon Dental Group, we want all our patients to have access to a variety of treatments for the results they desire. This includes services like teeth whitening and cosmetic bonding. While these options are more affordable and convenient than veneers, they simply don't offer the same results. Whitening helps with the color of your teeth, but not the shape or alignment. Bonding can help with the shape of your teeth, but it can only be used for minor flaws. That's why we offer veneers – they allow patients to enjoy a full smile makeover, correcting a number of imperfections all at once.