February 7, 2021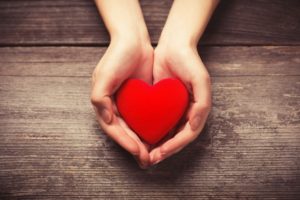 When you think about your heart health, brushing and flossing your teeth probably aren't the first things that come to mind. However, maybe they should be! Countless recent studies indicate that maintaining great oral health can positively impact the rest of your body, including the cardiovascular system. On the other hand, research shows that unhealthy teeth and gums can put you at a higher risk of some serious systemic health conditions, like heart disease. Since February is American Heart Health Month, now is the perfect time to learn how your heart and smile are connected, and what you can do to keep them both healthy!
Linking Cardiovascular Disease & Gum Disease
The eyes may be referred to as windows to the soul, but your smile can be a window to your overall health. Decades of research have discovered that over 90% of whole-body health problems such as diabetes, osteoporosis, kidney disease, cancer, and many more present warning signs in the mouth that can be detected by your dentist. Similarly, untreated oral health issues have been linked to a higher risk of respiratory infections, premature births, and memory loss. In fact, some studies even report that those with 20 or more teeth at the age of 70 are much more likely to live longer than those with fewer.
A particularly compelling connection is that between gum disease and the cardiovascular system. Patients with gum disease are much more likely to experience a heart attack, stroke, or other cardiovascular event than those with healthy gum tissue. Experts believe that the harmful bacteria and prolonged inflammation associated with gum disease can spread throughout the body, which would restrict the arteries and inflame the inner linings of the heart's chambers and valves. While research is ongoing, evidence shows that gum disease can increase a patient's risk of heart disease by 20% or more.
The Heart Benefits of Smiling
Maintaining great oral health will boost your health in two important ways. Firstly, you'll prevent issues that increase your risk of cardiovascular problems. Secondly, you'll feel better about the appearance of your teeth, which will naturally encourage you to smile more! Studies on the effects of smiling demonstrate that this simple act triggers the release of serotonin, dopamine, and endorphins in the brain. As such, researchers report that smiling lowers blood pressure, promotes relaxation, and reduces stress, therefore boosting the health of your heart.
Keeping Your Smile & Heart Healthy
Both the American Heart Association and the American Dental Association recommend practicing a few simple habits to keep yourself healthy, like:
Thoroughly brushing your teeth and gums for two minutes twice a day
Flossing between all your teeth every day and rinsing with mouthwash regularly
Eating a nutritious, low-sugar diet and staying hydrated
Seeing your dentist for routine checkups and cleanings twice a year
Looking out for warning signs of gum disease and taking action against them right away.
Great oral health does more than protect your pearly whites from cavities. Taking care of your teeth and gums is the first step towards keeping your heart healthy!
About the Practice
At Avon Dental Group, you can expect personalized, quality dental care from a compassionate dental team who truly cares about your wellbeing. With state-of-the-art technology and a welcoming office environment, they go above and beyond to ensure that every appointment is as pleasant as possible. Every checkup includes a gum health screening so they can spot and stop any signs of gum disease right away. To learn more, they can be contacted via their website or at (508) 587-8300.
Comments Off

on A Healthy Heart Starts with Your Smile
No Comments
No comments yet.
RSS feed for comments on this post.
Sorry, the comment form is closed at this time.