November 3, 2021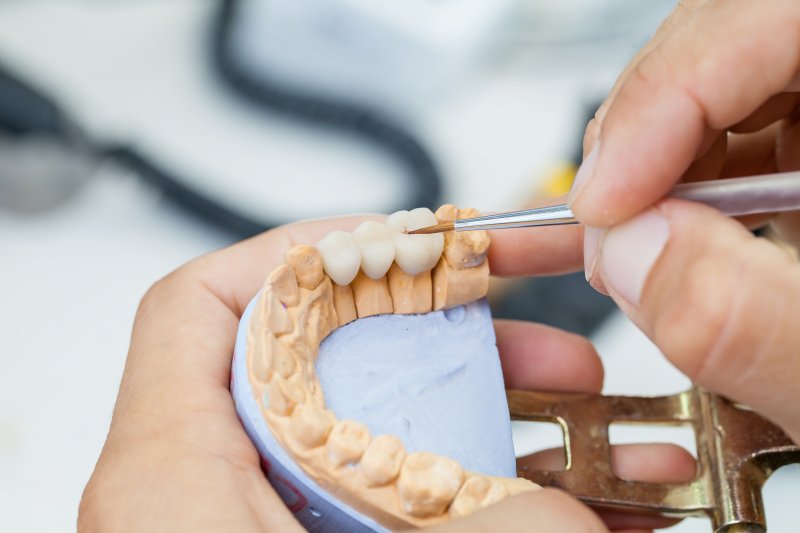 Millions of Americans suffer from tooth loss. If you're a part of that group, you know from experience how much it can affect your quality of life. Luckily, dental bridges are an excellent solution for missing teeth that promise to be long-lasting. But exactly how long is that? In this blog post, we'll discuss the average lifespan of dental bridges, what you can do to maximize it, and share tips to help you take proper care of your new smile.
What Are Dental Bridges?
A dental bridge is designed to replace three or more consecutive missing teeth. It's made up of two or more crowns for adjacent teeth on either side of the gap and has an artificial tooth in between them. The neighboring teeth act as abutments (anchors) that hold the bridge in place.
There are two types of bridges available:
Removable Bridge – These have crowns on either end that clip to existing teeth. Although this option is more affordable and doesn't require surgery, they'll need to be removed every day for cleaning and maintenance.
Fixed Bridge – There are two types of fixed bridges: one that clips to your natural teeth and another that's attached to dental implants.
How Long Can a Dental Bridge Last?
It's hard to say with certainty how long your dental bridge will last because it can vary greatly from person to person. The longevity of your restoration depends heavily on factors like your oral hygiene routine, diet, and lifestyle. Most patients can expect their bridge to last anywhere from five to seven years. However, if you practice good oral hygiene and visit your dentist regularly, you can expect yours to last well over a decade!
Why Do Dental Bridges Fail?
Dental bridges typically fail for the same reasons that cause issues with your natural teeth, including:
Poor oral hygiene. Neglecting to take proper care of your teeth, gums, and restoration is the most common reason behind dental bridge failure. It can lead to decay in your natural or artificial teeth.
Bad habits. Biting your fingernails, chewing on a pen, frequent snacking, and grinding your teeth at night can cause damage to the supporting abutment.
Insufficient abutment. If your dental bridge doesn't have sufficient support from the abutment or your natural teeth, it can result in instability and cause your dental bridge to fail.
Tips to Care for Your Dental Bridge
Here are some steps you can take to ensure your dental bridge lasts as long as possible:
Brush your teeth twice a day and floss daily
Use fluoride toothpaste and rinse with an antiseptic mouthwash
Avoid chewing on ice, biting your nails, or using your teeth as tools
Stay away from brittle foods and hard candy
Visit your dentist regularly for checkups and cleanings
Ultimately, the lifespan of your dental bridge depends on your habits and choices. By taking proper care of your smile, you can ensure it stays healthy and beautiful for a lifetime!
About the Practice
At Avon Dental Group, we strive to provide patients with exceptional and compassionate dental care beyond what's anywhere else. Our goal is to help everyone achieve and maintain a smile they can proudly show off. If you have missing teeth, we can replace them with dental bridges. We use the latest technologies, techniques, and materials to ensure it lasts as long as possible. Visit our website or call (508) 587-8300 to make an appointment.
Comments Off

on The Lifespan of Dental Bridges
No Comments
No comments yet.
RSS feed for comments on this post.
Sorry, the comment form is closed at this time.