July 6, 2022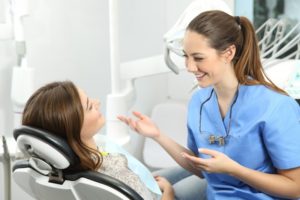 When you think about the people who take care of your teeth, your dentist is probably the first person to come to mind. But they're far from the only one involved in your regular checkups – your dental hygienist also plays a key role. While you might think that all your hygienist does is polish your teeth, it turns out that they do a whole lot more. Here are five crucial things your dental hygienist does to make your appointments run smoothly
1. Prepare for the Day
Dental hygienists start their duties well before the morning's first patient arrives. They must make sure that all of the treatment rooms are thoroughly sanitized and stocked with the necessary supplies. Ahead of patients' visits, the hygienists will review their charts and verify that their needs can be accommodated.
2. Welcome Patients
When patients begin arriving for their appointments, the hygienist warmly greets them and helps them feel relaxed. Many patients struggle with nervousness or anxiety at the dentist's office, and having a calm, friendly demeanor helps the hygienist set their minds at ease. As they chat with the patient, the hygienist will review their records and update anything if necessary, such as medication changes, so that the dentist can administer better-suited treatments. The hygienist will also ask whether the patient has any dental health concerns.
3. Perform Initial Exams & Cleanings
Before you even meet with your dentist, the hygienist will most likely perform a preliminary exam of your mouth, which may include taking X-rays. They'll note their findings and discuss them with the dentist before the dentist evaluates your mouth for themselves.
After your dentist has finished (or sometimes before), your hygienist will give your teeth a professional cleaning and polishing. Not only does this give you a healthier, plaque-free mouth, but it also removes some stains from the surfaces of your teeth.
4. Educate Patients
At any time during your visit, feel free to ask your hygienist any questions you may have. They're happy to give tips on your at-home oral care routine so that brushing and flossing become more effective. They can also make sure you fully understand any treatments you may need.
5. Provide a Wide Array of Treatments
Throughout the course of a day, a dental hygienist performs all sorts of treatments in addition to cleaning teeth and assisting dentists with their evaluations. For example, a hygienist might apply dental sealants, provide topical fluoride varnishes, educate patients, assist in planning cosmetic treatments, and even help with complex procedures like scaling and root planing to treat gum disease.
As you can see, your dental hygienist is vital to having a positive experience at your dentist's office. The next time you see your hygienist, let them know that you appreciate their hard work!
About the Practice
Our team at Avon Dental Group is led by Dr. Mrugank Sardhara and Dr. Purvesh Malaviya, who are both skilled and experienced enough to perform a variety of dental services for patients of all ages under one roof. Of course, they couldn't provide the outstanding care they do without the help of our wonderful team members, including our dental hygienists! We always go above and beyond to make sure every patient has the best time possible while we care for them. To schedule your next visit, you can contact our office by calling 508-587-8300.
Comments Off

on 5 Key Things Your Dental Hygienist Does
No Comments
No comments yet.
RSS feed for comments on this post.
Sorry, the comment form is closed at this time.